Skin Health Systems
Silverfern vein and aesthetic clinic is pleased to now offer the Obagi® Medical Skin Health systems. Obagi® offers a wide range of products to assist with many skin health problems such as:
Premature aging
Photodamage
Hyperpigmentation
Acne
Rosacea
Fine lines and wrinkles
Sun damage
Large pores
Because Obagi® Systems and products contain prescription-strength formulations, the systems are only available through physicians.
Beautiful Skin At Any Age!
Beautiful skin is healthy skin. It is firm and smooth, with even skin tone and glowing color. It is free from medical problems and it is normal in function and tolerance. We are born with healthy skin, but time, the sun, and environmental assaults take their toll.
They do not have to win.
The skin is a remarkable, living organ with the incredible ability to renew itself from the inside out. All it needs is the right kind of treatment to help it remember how. And that's the treatment you'll find with Obagi®. Skin health is a revolutionary idea. Most products concentrate on the concept of skin care – treating symptoms, providing surface moisture and covering up blemishes. But the only way to reclaim the health of your skin is to reach below the surface and work at a cellular level.
The Obagi® Skin Treatment system combines specially developed products with medical supervision and counseling to treat your skin from the inside out. This program works on the surface to smooth roughness and correct damage like uneven skin tone and hyperpigmentation. It also penetrates below the surface to stimulate cell renewal, improve circulation and help restore your skin's natural moisture. The results? Beautiful, healthy skin.
The Obagi® NU-DERM® Program, the best available to restore Skin Health, is built on the concepts developed from years of clinical research by Dr. Zein E.Obagi, a leading and innovative dermatologist. His methods and techniques are taught all over the world to plastic surgeons, dermatologists and medical specialists. The program emphasizes the unique concepts of correction and stimulation of the skin, which lead to regulating and strengthening skin functions to produce collagen, elastin, and healthier skin cells. This leads to smooth, firm skin, with even color tone for a younger and healthier looking skin.
Visible Transformation
See how the Obagi Nu-Derm System can transform skin to look and act younger and healthier.1
Photos have not been retouched. Results may vary.

Renew Your Skin
2x greater improvement in all measurements of fine lines and wrinkles vs stand-alone treatments
Clinically significant improvement was seen in facial fine wrinkles, fine wrinkles around the mouth, lips, and eyes, as well as laxity
You'll love the results of the Obagi Nu-Derm System combined with tretinoin together with common procedure
The Obagi Nu-Derm System provides you with benefits you can see and feel
The Phases of Transformation
As you begin using the Obagi Nu-Derm System, your skin will undergo 4 phases of transformation.
Phase 1: Out With the Old (Weeks 1-6)
Promotes cellular turnover and maximizes the results of your procedure by penetrating the layers of your skin:
Old, dead skin cells are pushed to the surface and replaced with fresh cells
Itching, dryness, and redness are normal reactions as your skin adapts to the active ingredients in the system†
Pigmented skin cells begin to become regulated, creating a more even-toned appearance
Phase 2: In With the New (Weeks 7-12)
Smoother, softer, clearer skin is create:
Your skin begins producing normal, healthy cells
Pigment cells are distributing melanin more evenly
Collagen production is stimulated
Your skin begins to acclimate to the active ingredients of the system
Phase 3: Healthy Glow (Weeks 13-18)
Your skin cells are in the process of transformation:
Collagen production continues
Your skin is smooth, naturally hydrated, evenly colored, and more resilient
Your skin is becoming clearer, firmer, and tighter with improved clarity and a healthy glow

Phase 4: The New You (typically lasts indefinitely, with maintenance)
You can enjoy a complexion that's smoother, clearer, and firmer, but remember that maintenance is crucial to long-term success!
†If you experience excessive itching, dryness, or redness, discontinue use of the system and contact your physician.
References: 1. OMP, Inc. Data on file. 2. Herndon JH Jr, Stephens TJ, Sigler ML. Efficacy of a tretinoin/hydroquinone-based skin health system in the treatment of facial photodamage. Cosmet Dermatol. 2006;19(4):255-262. 3. Schlessinger J, Werschler P, Kenkel J. Further enhancement of facial appearance with a hydroquinone/tretinoin skin care system in patients previously treated with botulinum toxin type A: a multicenter investigator-masked study. Poster presented at: Summer Meeting of the American Academy of Dermatology; July 29-August 2, 2009; Boston, MA.
Antioxidant Protection. Maximum Vitamin C Penetration
Obagi Professional-C Serums™ use advanced scientific formulas developed and tested by leading Vitamin C experts to provide maximum daily antioxidant protection against free radicals, which cause premature signs of aging including fine lines and wrinkles. Our unique formula provides greater penetration of ingredients than other Vitamin C products — delivering greater antioxidant benefit to your skin!
Product Details
Obagi Professional-C Serums™ use stabilized L-ascorbic acid – the only form of Vitamin C that can be effectively absorbed by the skin. Speak with your skin care specialist to choose from our 4 concentrations to determine which one is right for your skin.
Flawless Results for You
Obagi Professional-C Serums™ offer maximum daily antioxidant protection and greater penetration than other Vitamin C products — up to 2 times more than the competition!
Revitalize Your Skin for Your Best Chest Forward
While you may have diligently maintained the skin on your face for years, you may not have paid as much attention to the skin on your chest and neck. However, the skin on your décolletage is particularly vulnerable to visible signs of aging, since it tends to be thinner, less moisturized, and often overlooked in the sun protection regimen

Revitalize your décolletage skin with the Obagi ELASTIderm™ Décolletage System for flawless, younger-looking skin.
Product Details
The Obagi ELASTIderm™ Décolletage System consists of a patent-pending product using Penetrating Therapeutics™ that is clinically proven to help restore healthy skin. Used together, this therapeutic system diminishes the signs of aging, helping revitalize vulnerable skin.
Reveal the Resilience Within
See how Obagi ELASTIderm™ Décolletage System helped diminish the signs of aging and restore elasticity in the chest and neck area.

Patients shown were treated twice daily with Obagi ELASTIderm™ Décolletage System and once daily with tretinoin 0.025%.1

See the Resilience Right Before Your Eyes
Finally! An eye treatment that really works to bring back the lift around your eyes! The Obagi ELASTIderm Eye Treatment is a one-of-a-kind eye treatment that includes a revolutionary bi-mineral complex, copper zinc malonate, to help restore the elasticity around your eyes and reduce the appearance of visible fine lines and wrinkles.
The ELASTIderm Eye Treatment is only available through your skin care professional because it contains powerful, yet gentle ingredients:
Bi-mineral complex: Includes zinc and copper to help restore elasticity and build collagen
Malonic acid: Patent-pending Obagi formulation that helps stimulate the production of skin cells
Blueberry extract: Provides antioxidants that help eliminate free radicals
Penetrating Therapeutics™: An Obagi technology that helps drive the ingredients deep into the skin
Product Details
Because your skin care needs are unique, ELASTIderm has been developed in a cream formula for those who prefer a smooth, rich consistency, and in a gel formula for those who prefer a cool, fluid consistency.
See the Results. Believe Your Eyes.
See how ELASTIderm helped bring back elasticity and reduce the appearance of visible wrinkles around the eyes.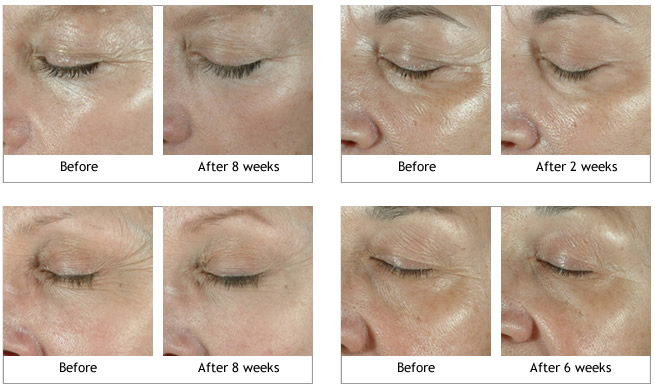 Photos have not been retouched. Results may vary.
Clinically Proven to Bring Back Resilience
Restores the elasticity in your skin lost or damaged by age and sun exposure.

46%
increase in elasticity in 9 weeks1


Reduces visible fine lines and wrinkles by helping to restore elasticity and build collagen.

16%
decrease in the number of visible wrinkles after 9 weeks, with results in just 2 weeks1
A Clearer, Calmer, and More Balanced-Looking Complexion
The Obagi Rosaclear™ System is designed to help you achieve a clearer complexion by reducing the redness and blemishes caused by rosacea.
Product Details
The Rosaclear™ System consists of the following Obagi products:
Gentle Cleanser
Metronidazole Topical Gel USP, 0.75%
Hydrating Complexion Corrector
Skin Balancing Sun Protection SPF 30
A Clearer Look at Your Skin
See how Rosaclear™ can help you get a clearer, calmer, more balanced-looking complexion. Photos have not been retouched. Results may vary.

Proven Results by the Numbers
In clinical studies, 90% of patients experienced at least a Grade 1 reduction by the second week of treatment with the Rosaclear System.

Over-the-Top Protection You Won't Find Over-the-Counter
With Obagi-C® Rx you're on your way to healthier, refreshed, revitalized skin from cell to surface. The Obagi-C® Rx System offers the benefits of both prescription-strength 4% hydroquinone and potent Vitamin C to correct signs of skin damage and help restore and maintain younger-looking skin.
Obagi-C® Rx System products are ideal if you have:
Minimal fine lines
Minimal unevenness of skin tone
Mild hyperpigmentation and minimal age spots
Intolerance to, or are not ready for, more aggressive anti-aging regimens
Dry, normal, oily, or even sensitive skin
Remarkable Results
See how the Obagi-C Rx System improved appearance of hyperpigmentation (brown spots) and restored balance and clarity to lackluster skin in just 6 weeks.1 In a clinical trial composed of subjects of varying ages and skin types, the Obagi-C® Rx System for Normal to Oily Skin showed visible results when applied as directed.1
Photos have not been retouched. Results may vary.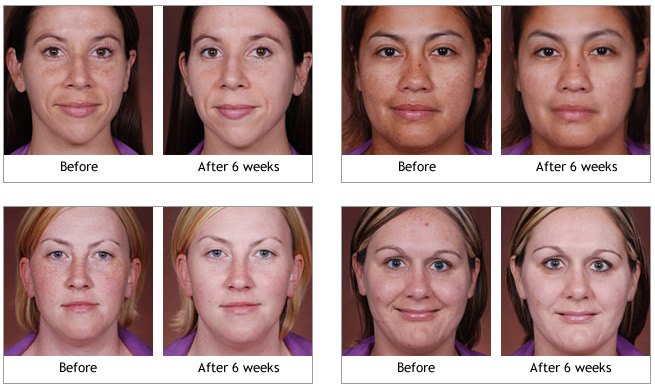 Clinically Proven Ingredients
Prescription-strength 4% Hydroquinone
Improves the appearance of hyperpigmentation (brown spots)
Accelerates skin turnover to restore balance, radiance, and clarity
Potent Vitamin C — 10% L-Ascorbic acid
Promotes skin rejuvenation from the inside out—Vitamin C is the only topical antioxidant proven to stimulate collagen synthesis
Maximizes antioxidant absorption due to a low pH level
Proven, Superior Skin Penetration
When compared to SkinCeuticals Phloretin CF®, another leading Vitamin C product, the Obagi-C® Rx's C-Clarifying Serum delivers more Vitamin C into the skin and remains in the skin longer — providing greater antioxidant benefits to you.2